Because of the location of Greater Cumberland Baptist Church, there is a natural relationship between the church and the Soldiers of Ft. Campbell and the 101st. The demands on the Soldiers and their families during the deployments, training, and preparation has shown us that there are great opportunities to be a help and blessing. As a result, the Lord has given us numerous opportunities to minister to the Soldiers and their families. One of our military spouses has said that 'Supporting the Eagle' could be considered a faith-based FRG ministry.
The Lord has uniquely prepared Pastor Ken Shaver for this ministry. In addition to his fourteen years as a Black Hawk pilot, God has also given him a heart for the military and its men and women.
The focus of 'Supporting The Eagle' is shown in several ways such as: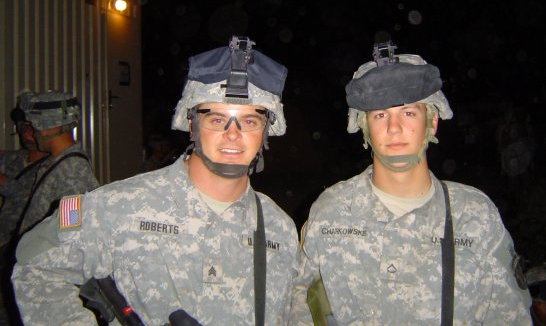 Single Soldier Ministry
One area where Greater Cumberland Baptist Church 'Supports the Eagle' is through our Single Soldier ministry. This includes activities to get the Soldiers out of the barracks such as skeet shooting, fishing, basketball, softball, paintball, and other enjoyable times where the Soldiers can relax and 'let their hair down.'
Family Activities
Whether the family is a traditional family, a blended family or a single-parent family, Greater Cumberland Baptist Church welcomes the opportunity to help military families be all that God wants them to be. Monthly activities, picnics, ladies fellowships, men's conferences, and our annual family crusade are just a few examples of the emphasis that is placed on strengthening the families and giving them the tools they need to be successful for the Lord.
Deployed Soldier Support
A great focus of our ministry occurs while the Soldiers are deployed. At times, twenty-five or more of our church's men and women are in a combat zone. During that time, we here at Greater Cumberland Baptist Church work hard at providing encouragement and support for the Soldiers who are gone and for the families that are here.
Operation Cookie Club
Allows us to send packages, frequently, to those who are away. These packages include cards, letters, gifts, and COOKIES; fresh…baked…homemade cookies.
Additionally, our church hosts a "Mom's Day Out" on a bi-weekly basis to allow the spouses at home time to take care of much-needed responsibilities. These are just a few of the many ways that Greater Cumberland Baptist Church stands in the gap for those in combat.
From home support to family support to spiritual support, our church works hard to help the families during times of deployment.